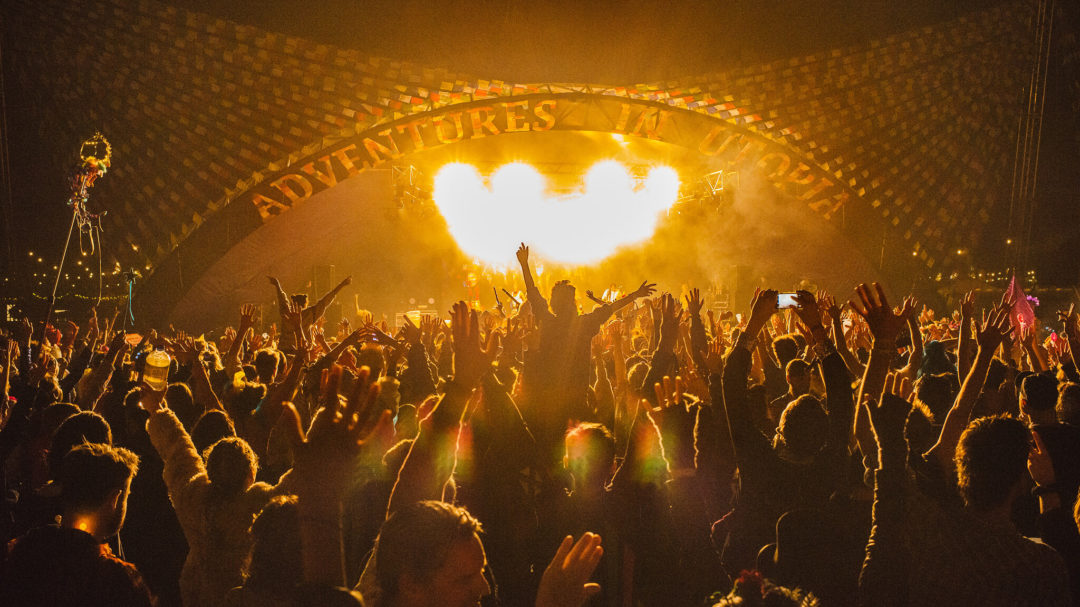 Charity partnerships: Events with heart.
This article originally appeared in Open Air Business Magazine, where Kate our marketing assistant has a column. The Oct/Nov issue also includes a case study on Starry Skies, our family camping event.
As an organisation, setting out core principles that animate and guide your decisions can lend everything you do a sense of integrity and coherency. With the constant challenges, developments and evolving constraints that come with running events, having core intentions to nail yourself to is one way to make sure you are delivering something with heart.
There is clearly a growing demand from audiences for principled parties. Being keyed into the communications aspects of festival delivery, it's impossible to not be aware of the growing conversation around single use plastic, waste and good sustainability practice. Twitter explodes every weekend over festival season with comparisons between various events' "aftermath" pictures. Audiences are increasing ready to call their beloved events industry to account, because, to borrow #MusicDeclaresEmergency's coinage, there can be "No [party] on a dead planet."
Our audiences want to trust that we are thinking about more than just exponential profit margins; whether this is purely from a customer experience level, or grounded in wider concerns about ethics, ethical consumption and sustainability. If they can trust we are thinking about people (and planet) they know they can party in good conscience. Trust is built through consistent messaging and in delivering an event that 'practices what you preach.' The significance of this cannot be understated. In an audience survey after Shambala 2018, 38% of respondents said they valued the "ethos" of the event above all else, with 7.3% specifically stating it was the absence of corporate influence that made their Shambala experience.
At Shambala, our principles become a metric of accountability. We are 100% independent and will always be so. Independence is a hard fought thing though. It is increasingly difficult for festivals to remain independent (if they want to) in this oversaturated and highly competitive festival landscape, where big backing means big budgets, and where many independent events are eventually absorbed by large corporations. Networks such as the Association of Independent Festivals offer support by connecting independent UK festivals. Being independent means we can concentrate on making unbiased decisions that will benefit our community and, hopefully, society as a whole. In saying no to corporate partnerships we are able to curate the festival on our own terms and support organisations that represent what we are about, beyond the field. Charity partnerships are a key component of expanding our connections across organisations, without curtailing our integrity and autonomy.
There are myriad ways to work with charities at an event. Services such as Lost Property, secure lock-ups and phone charging can all be out-sourced to charities so they can fundraise on site. You can also invite charities to run stalls and workshops at your event. Having Earth Protectors on-site was a perfect fit with our 2019 Extinction Carnival, and was a fruitful arena for them to communicate their Stop Ecocide campaign. Merchandise is another avenue were charity partnerships can work well. Rather than peddle tat, we wanted to present our audience with quality goods that connect them to a story. So, when they buy a reusable, RAW Foundation manufactured bottle onsite to use at our refill stations they know a portion of each sale goes straight to Bansang Hospital Appeal and FRANK Water, charities tackling lack of health access and water poverty.
A story can be told through charity partnerships on every level. It is another opportunity to engage our audience and share with them what we are about. Each year, our "Flags For…" campaign sets up a Crowdfunder page with a chosen charity that spotlights a new issue. In 2019, the Shambala audience raised over £10,000 for Unseen, a charity tackling modern day slavery. This campaign involved building a close relationship with Unseen's marketing team in order to maximise reach. We were able to tell a story together that made sense for both organisations. With charity partnerships there is a mutuality that is often lacking in corporate pairings.
With Shambala's "Flags For…" each donation is visualised on site in the strings of Nepalese pray flags framing our main stage. These flags become a prominent symbol of the collective fundraising our audience has done over the months leading up the festival. It serves as a wonderful reminder of what larger scale events like festivals can do when they mobilise their audience, alongside incredible charities and NGOs.
You can find out more about Unseen's fight to save the only UK Helpline for Modern Slavery on their website www.unseenuk.org/helplineappeal