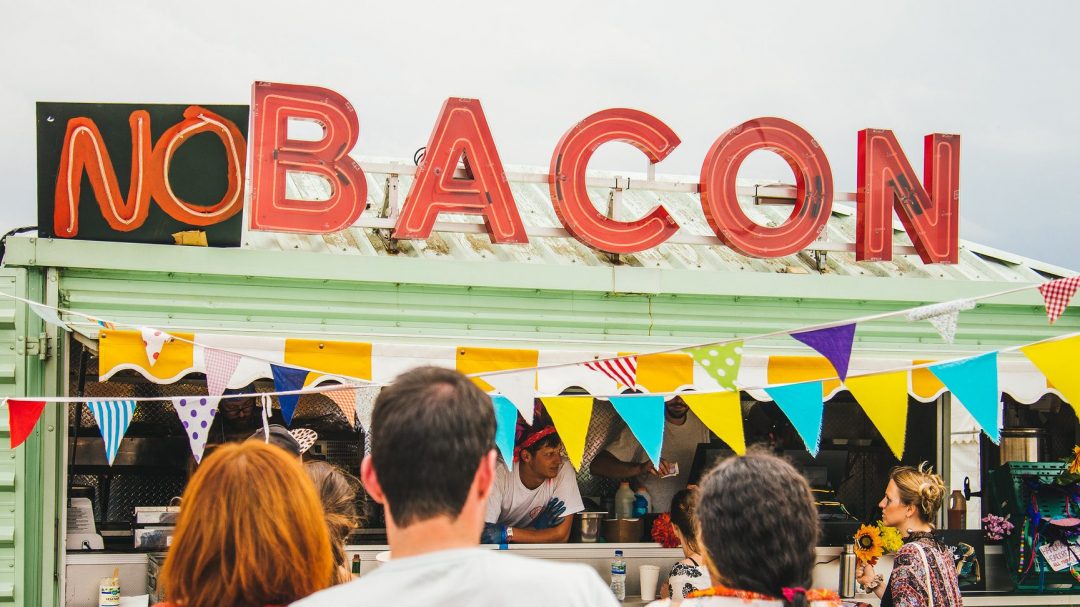 Behind the Scenes with 'Meat and Fish Free Shambala' in 2016
At Shambala, we have always endeavoured to find ways to reduce the environmental impact of our festival. Over our 17 -year history, we've ditched disposable plastics, introduced sustainable travel initiatives and become 100% renewably powered, on our quest to combine the best party with an absolute commitment to the future. But in 2016, when it came to the next step, tackling the huge and emotive topic of food was a natural, if controversial, choice.
Consumption of meat is a significant cause of environmental damage; as well as causing land degradation, deforestation and ocean pollution, the meat industry is responsible for more greenhouse emissions than the combined exhaust fumes from all global transportation.  It's also becoming more widely accepted that it is unhealthy to consume meat in the way we do in wealthy societies.
It would be easy to write a thousand words on the significant and wide- ranging impact of the global livestock industry in particular, with a staggering 70 billion farmed animals, but the information is already out there. Instead, this is an opportunity to share our experience of making a bold decision, and how it worked out.
We were partly inspired by both Fusion and Tollwood Festival in Germany. The former is a 60,000 capacity dance event that has been vegetarian from day one. The latter, with an attendance of 750,000 Bavarian meat-loving daytime visitors over ten days, introduced a vegan market accounting for 50% of their food offering completely on the sly. The audience feedback was positive and the revenue equal in the vegan and meat markets, and the profit margins were typically higher for the vegan market traders. They believe that if they'd have announced it, the vegan market would have been empty.
Shambala on the other hand, chose to go all out on the announcement – that was the point. But we were careful to adhere to the mantra of the 'positive' in how we presented the choice. People are coming for an adventure, a release from daily life, and a great deal of behavioural psychology and campaign experience suggests that people respond better to positive messages than climate change doom. So, we set ourselves a challenge: to provide the most eye-popping, mouth-watering, colourful, hearty array of cuisine at Shambala 2016 without a single bit of meat or fish on sale. Not a sausage.
Our audience were free to bring their own meat to site if they wished, but we sold none.
We were genuinely apprehensive about the reaction, and didn't take the decision lightly. Is it wise to challenge your ticket buyers, 70% of whom are meat eaters?
The percentage of non-meat eaters at Shambala is above the national UK average, and it has been suggested by a few that we have receptive audience to work with on this, being an independent festival with a strong and renowned ethos. But food, as we know, is remarkably emotive, and our audience represent a diverse demographic. We considered it a risk.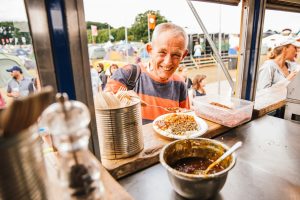 When we announced the decision on social media, the first Facebook post reached around 150,000 people without paid sponsorship, more than the line-up release. Media coverage included Radio 4, the Guardian (with 161,000 online reads), Metro and many other news channels. It was big for a festival of 15,000 capacity  (inc. staff) with a lean marketing budget.
The audience reaction was broadly positive. We'd taken the time to provide comprehensive FAQ's on the website, partly because we made the decision to actively engage in this debate – this wasn't a PR stunt – but also out of concern for how to manage a potential avalanche of queries and complaints.
Those who opposed plans were not quiet. Many comments centred on one's right to choose and our illegitimacy to challenge it. This perhaps speaks to the heart of the issue – consumer society, capitalism, choice, and the fact we are increasingly defined by what and how we consume. We are largely unaware of the extent of the impacts our choices have, especially our diet, and we simply don't want to think about it.
Some parents freaked out about not being able to keep their kids alive for four days without meat options, but most were reassured that there would be plenty of choice for them when we released the concessions menu's online.
Vegetarians and vegans were unsurprisingly delighted that they would have more choice. Some meat eaters claimed discrimination. Other 'lively' exchanges online centred on myriad pseudo-facts and accusations of vegans eating imported soya and thus wrecking the planet as much as meat eaters – the science says different, but there may be a place for some meat in a sustainable future.
As well as the inevitable slanging matches, there were inspiring, well-informed conversations about the sheer complexity of the issue. We were well researched, but never claimed to have all the answers. And we've learnt a great deal ourselves this year.
Ultimately, only two people requested refunds, and we sold out earlier than any previous year in our seventeen-year history.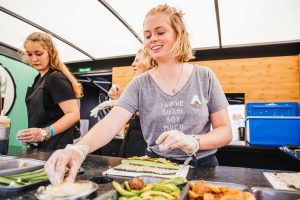 Onsite, a few 'provocations' were introduced to help create talking points, including an insect café,  the Street Goat Project and the worlds only mobile kipper smoking house. The kippers were bait for an exhibition on sustainable fishing, if such a thing now exists. A new venue and area, the Garden O' Feeden, was dedicated to talks, workshops and dining experiences with a difference.
Food provenance is increasingly in the public consciousness, and particularly a challenge in such temporary environments as festivals. We go to fairly extreme lengths compared to many festivals to manage what's onsite, setting high standards for all sourcing, providing vetted wholesalers and auditing concessions.
National research suggests one in ten food products in the UK are fraudulently labelled, and we all remember the horse meat scandals. We feel it's important to know what we are presenting to our audience, both in terms of ensuring quality and ethics of the supply chain.
In 2016, 99% of dairy onsite was organic, and we commissioned a dedicated batch of organic "Shalloumi" from a welsh producer. We have developed relationships with many local suppliers, and even inspired the set-up of an organic milk bottling plant.
There were other benefits too. Not selling meat made food safety a whole lot simpler, and was largely responsible for reducing food waste onsite by two thirds compared to 2015.
One thing we didn't anticipate were fire safety concerns regarding the expected increase in the use of gas stoves by campers that couldn't live without a bacon buttie, but this did not manifest in any incidents. Plenty of campers already cook food.
Drinks are often forgotten. Many ales and ciders contain a fish derivative called Isinglass, used as a refining agent to reduce cloudiness. 99% of beers and ciders at Shambala were vegan, and sourced as locally as possible. We partnered with Purity for our volume lager, winner of Made in the UK Sustainable Manufacturer of the Year 2015, and worked with many other quality local suppliers to minimize 'drink miles'.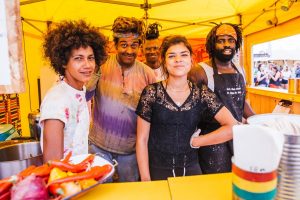 So what was the feedback? Sixty percent of concessions onsite reported similar or increased takings compared to 2015. A few who already offer vegetarian menu's suffered from the sudden increase in choices available. Others were new to us. Most understood and supported what we are doing, and although they already adhere to our strict sourcing policies such as fair trade teas and coffee's, there was concern over the cost of organic dairy in particular. Working with a higher number of smaller wholesalers can challenge the simplicity of supply, but the feedback has been positive, and concessions adapted by tweaking their menu's and recipe's in some cases.
It's fair to say there was just as much skepticism amongst the staff and crew, as among our audience. Some were worried that security staff and site crew would walk offsite in protest or even not sign up to work in advance.
There were a few clandestine trips offsite, and there were occasional choice cuts on the BBQ in the site crew camp. But overall, it was met positively as an opportunity to experiment, albeit with concerns about calories and energy for those with very physical jobs.
We worked to ensure the food was balanced and adequate in protein and carbs, and no-one looked like they were about to collapse at any point. With the money saved on the crew catering budget that would usually be spent on meat (an expensive ingredient in any menu, especially as it had been organic in our crew catering), we were able to jazz up the offering significantly, with green smoothies in the morning, more diverse options, and puddings. This exemplifies the whole approach – strongly present the advantages and not what is perceived to be lost. But of course it must be delivered well, or you lose the argument pretty easily.
The majority of crew have since admitted that it provided an opportunity to try new things, break habits, consider the issues, and some have chosen to be vegetarian or changed their diet. A festival is a perfect place to do this of course, both in terms of having a prolonged captive audience engaged in an experience different from every day life, and the ability to control what food people are provided with.
Another expectation was the likelihood of an informal economy, especially DIY bacon bap operations in campsites. No doubt there was the odd entrepreneur, but it was not a significant issue.
In the audience survey, satisfaction with food quality and choice was overwhelmingly 'good' or 'excellent', and 77% want us to stay meat and fish free in 2017. That's great for gauging how we delivered onsite, and for a general sense of how it was received, but the real test is this: Have we actually made a positive difference in the world? The answer is yes – over 50% of meat eaters who took the survey responded that they have 'changed their diet and reduced their meat intake' as a result of the festival. We're very happy with this, but there's plenty more we can explore on this topic in 2017.
It's important to note that 'success' for us is not persuading people to be vegan per se. Our own staff team is a mixed bag of a vegans, life-long vegetarians and meat eaters who like to think of themselves as 'responsivores' (i.e. responsible meat eaters). Success, we all agree, is having this important conversation, and moving us toward the ability to make positive, informed choices about how we impact other people globally today, and in the future.
Why actually go meat and fish free rather than simply ensure ethical procurement and promote the issues, many have asked. We felt that without a bold stance, this kind of conversation can easily disappear into the background. That's not to say that all the great work festivals are doing on ethical sourcing isn't valuable enough, rather that if you're in the business of positive behaviour change, you need to engage people effectively, rather than slightly alter the choices available.
Tickets for Shambala launched in October and in the first 48 hours we were 50% up on 2016 two-week sales figures, shifting 30% of tickets. So at the very least going meat and fish free has not negatively affected sales. Perhaps it has contributed to increased sales, but we cannot say this with confidence – whilst ethics is at the core of what we do, it's the party with the ethics that sells the show.
What's new in 2017? We will continue to provoke and delight on the food front. There's talk of road kill cuisine, butchery workshops and behind the scenes we are looking particularly at food miles, and strengthening local supply chains. Beyond food, we're working with festival campaign and charity Energy Revolution to balance travel miles with audience and suppliers, and creatively, it's all under wraps for a little while yet.
In the words of our friend Ed Gillespie, "We are all environmental activists, three times a day, every mouthful we take shapes the world. We either eat for a future, or we eat the future."
Read the Shambala FAQ's http://www.shambalafestival.org/meat-and-fish-free-for-2016/
Check out Energy Revolution at http://www.energy-revolution.org.uk
Read the Guardian article at https://www.theguardian.com/travel/2016/aug/04/shambala-festival-goes-meat–and-fish-free-in-bid-to-provoke-environment-debate
Ed Gillespie TEDx talk – https://youtu.be/ZJeI2VIEDY8
---
Article by Chris Johnson