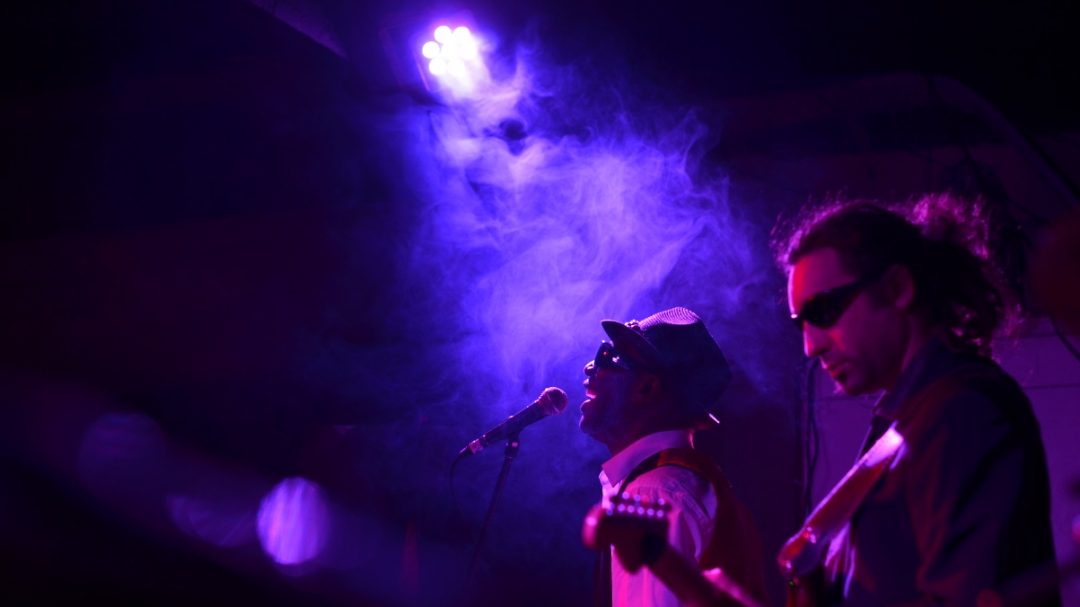 Roaring Response to Reggae City 2015
One of Kambe's newest and most exciting projects based in the city of our roots – Birmingham.
The event has been running for several years and although we were involved from the start, we have only just take(n)-over the dance fully! For Kambe the core aim is to support and nurture the talented community of musicians in the West Midlands, involved in Reggae influenced music styles. For 2015, we were aiming to drive up audience numbers and enhance the profile of the event and Birmingham as the Reggae City.
It's safe to say that we achieved these aims with this years Reggae City attracting nearly 1000 people, to absorb the amazing vibes and dance till dawn! The event took place on Saturday 10th October using the popular venue Alfie Birds and the Oobleck venues at the Custard Factory. As well as music, Kambe was looking for Reggae City to deliver a rich and diverse event experience with much more; a carnival atmosphere, festival inspired decor, ital food (with vegan options) and even dominoes!
The line-up was predomiantly made up of local artists with a smattering of special guests from around the UK. A true showcase of raw emerging talent and well-established artists from the worlds of  Reggae, Dub, Jungle, Dubstep, Dancehall and more. Local legend Macka B headlined the main stage with his Roots Ragga band, putting on an amazing high energy show packed with positive messages.  World renowned junglist DJ and producer Aries, alongside MC David Boomah, took the event to a fitting crescendo and close, with a killer final stage set.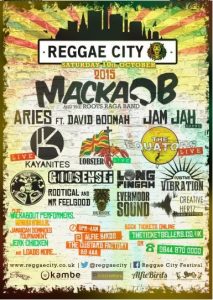 "Pluming smoke in the courtyard, red stripe, jerk chicken, dreadlocks, hundreds of people and good vibes between them all – the aesthetic is perfect. I begin exploring by following muffled bass-throbs into the Oobleck. I throw myself into the depths people skanking insync to the 2-tone ska Birmingham group The Equators." Voo Doo Jukebox Review
The Attic Jungle space hosted by the Creative Hertz Sound System (local custom built system) saw DJ's and sounds from Birmingham and further afield, such as Sticky Joe, Jam Jah Sound and more. This space really offered an alternative experience to the live stage, with the impact of the huge sound system and the jungle themed décor, meaning that this space was heavily populated throughout.
Christine (Project Co-ordinator) was passionate about including as much of the community as possible, "This year we invited all the previous artists who have performed at Reggae City from years past to attend for free, alongside Reggae promoters and industry members. This was in a bid to develop the reggae network within Birmingham to support each other and let the scene thrive. The Reggae scene is an important asset to Birmingham for so many people and it's because of events like Reggae City that we can all get together and celebrate this".
"It certainly feels like Reggae City 2015 has lit the torch paper for future years, with many people attending and finally taking notice of this event. The tremendously positive feedback has left us motivated to improve and develop the event in 2016 and beyond", said Jon Walsh (Kambe, Director).
Reggae City has now been accepted on the city's Festival Calendar, which is a great sign of wider support, beneficial to the events creditability and shows the city council is behind an event that should be part of its cultural offering.
"I'm always astounded at the unconditional acceptance given in reggae circles here in Brum. Events are culturally diverse and unifying and Reggae City 2015 is a strong example of this. I feel at home here and it's not just a gig, it's a celebration of reggae-influenced music across the board from local groups, household names and out-of-town artists. It's an authentic glimpse into the scene and reminds me that Birmingham is, and always should be, a Reggae city", Voo Doo Jukebox Review.
For photos, more info and upto date news see the website: www.reggaecity.co.uk
Sign up to the mail list … link us on Facebook… or twit us @Reggaecity!