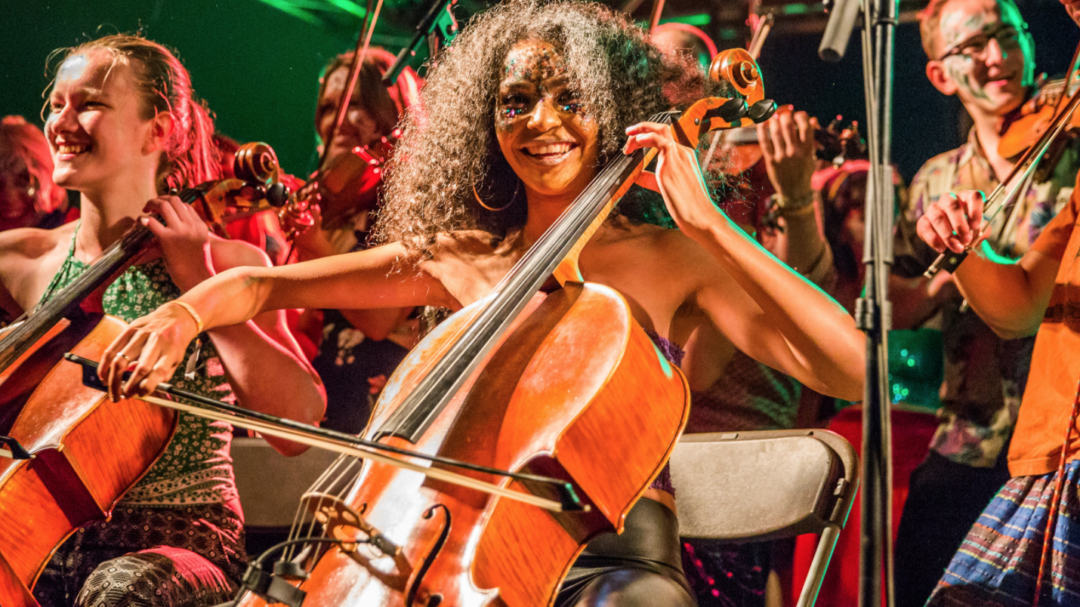 We've been granted Arts Council Funding from the Cultural Recovery Fund's Continuity Support Programme.
We are pleased as punch to be among 925 recipients to benefit from the latest round of awards from the Culture Recovery Fund
The 'Continuity Support Programme' was the third round of Cultural Recovery Funding, and was only open to those who had received Cultural Recovery Fund grants previously. We did not apply for the first round of CRF funding but applied successfully the second time around. This latest pot of funding will support organisations from all corners of the sector as they deal with ongoing reopening challenges, ensuring they can thrive in better times ahead.
We have been granted £190k of funding. Whilst a small element of this funding will go towards overheads and staffing costs for our year round team, the vast, vast majority of the fund will go towards event delivery – from artist fees to production costs and to our amazing team of freelancers and suppliers – so many of whom have unfortunately fallen through the cracks entirely when it comes to funding and support. We are grateful that this funding will have a ripple effect to our wider crew family, by enabling us to bring the whole gang back together as we throw ourselves wholeheartedly into making Shambala 2022 the best event we have ever pulled out of the bag.
"Culture is for everyone and should therefore be accessible to everyone, no matter who they are and where they're from.Through unprecedented government financial support, the Culture Recovery Fund is supporting arts and cultural organisations so they can continue to bring culture to communities the length and breadth of the country, supporting jobs, boosting local economies and inspiring people." – Culture Secretary Nadine Dorries said:
Over £1.2 billion has already been awarded from the Culture Recovery Fund, supporting around 5000 individual organisations and sites across the country ranging from local museums to West End theatres, grassroots music venues to festivals, and organisations in the cultural and heritage supply-chains.
"We can't overstate what a relief it is for us to have been granted this funding. We suffered catastrophic financial losses in 2020 when the pandemic hit. Rather than resting on our laurels and waiting for the storm to pass, 2021 saw our team work incredibly hard to pivot to new event models (socially distanced 'Camp Kin' camping events and 'Shambino' – our small scale distillation of all things Shambala, as well as throwing ourselves into event consultancy for clients such as Timber Festival and Coventry City of Culture. We also seconded a lot of our staff team out to FareShare, to run warehouse operations for FoodStock, which saw over 2million meals be delivered to folks in need in the South West. Whilst we are incredibly proud of the events we managed to pull out of the bag, and of the other projects we delivered, we still finished this year on just 30% of our usual turnover. After an incredibly stressful few years, marred with uncertainty, this funding gives us the safety net to be able to push ahead and throw our efforts and energies into bringing Shambala back to being the full sized, all singing all dancing spectacle our community know and love. We're very grateful to Arts Council England, who have been an incredible support to us." – Becka Whiteley, MarComms Director at Kambe Events.
"This continued investment from the Government on an unprecedented scale means our theatres, galleries, music venues, museums and arts centres can carry on playing their part in bringing visitors back to our high streets, helping to drive economic growth, boosting community pride and promoting good health. It's a massive vote of confidence in the role our cultural organisations play in helping us all to lead happier lives". – Darren Henley, Chief Executive, Arts Council England.
Thank you, Arts Council England, for being #HereForCulture.