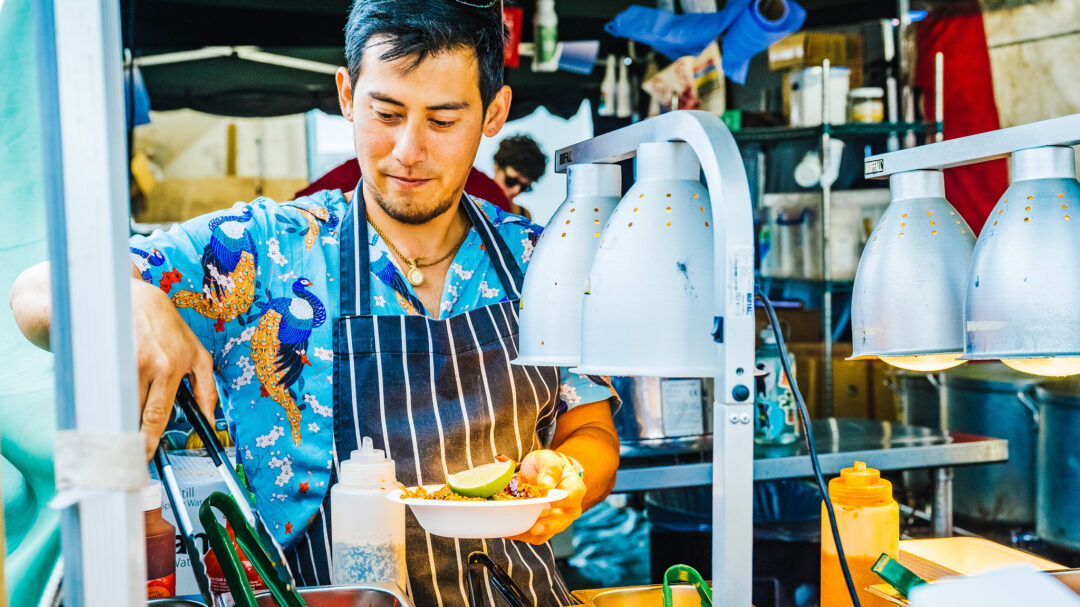 5 ways to improve the impact of your events' food traders…
Where our food comes from, how it's grown, packaged, transported and managed is one of the most important issues facing humanity today. Global food-system emissions are estimated to equate to between 25-35% of the world's GHG emissions. FAO Diet and food systems rank in the top 3 actions we can take to avoid a 1.5 – 2 degree warming. PDD
People are becoming increasingly aware that their diet comes with a climate cost. So as event organisers, what can we do to encourage food traders, and audiences to make more sustainable food choices?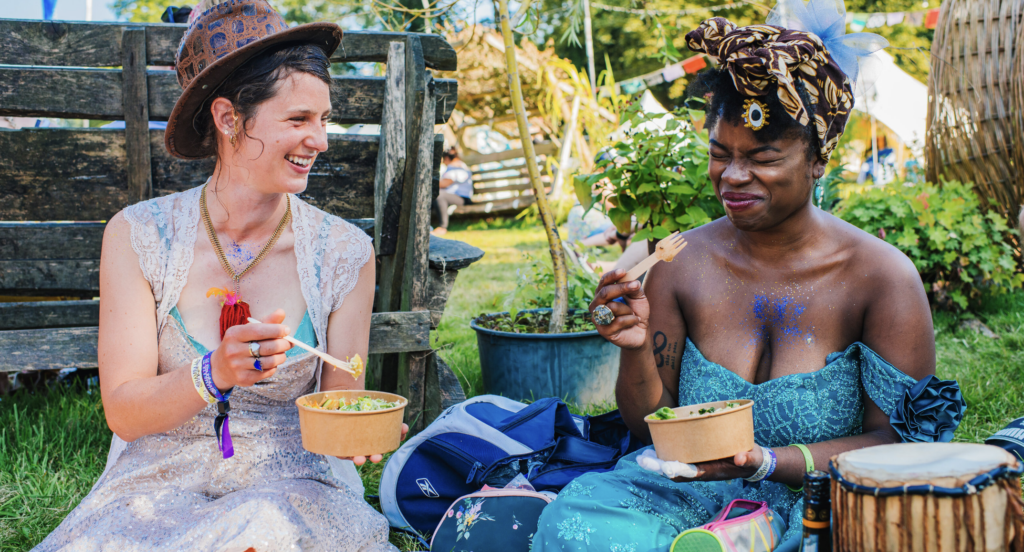 At Kambe, we've always been on a mission to provide an alternative to profit-driven, corporatocratic models of the mainstream, with ethical alternatives. Our flagship event Shambala Festival has been proudly meat and fish free since 2016. After year one of being a veggie utopia, 77% of respondents voted to keep Shambala meat and fish free. Our current focus is to incorporate up to 80% of local, regenerative or organic food in our menus as part of our 3 Year Roadmap. 
But how have we been making these changes? With over 60 food traders on site, and a crew catering partner that serves over 10,000 meals – we couldn't do it alone. Here's how we work with our stakeholders, to make change taste good.
1. Go on the journey together
Over the years, we've developed long-standing relationships with Traders and Caterers through mutual respect, communication and openness. We keep in close contact through the year, kicking off with a webinar in late winter – with talks from inspirational industry experts, then we talk through our sustainability directives. We check-in on all our traders on site during a safety and sustainability induction, then survey them shortly after the festival to hear comments and feedback.
2. Mandate certain standards
Ultimately, we have developed strict but reasonable guidelines. We communicate all relevant sustainability policies from the application stage, clearly outlining things like prohibited ingredients, banned products and brands. This information is evident at sign-up stage, and is part of our contractual agreements with traders.
3. Recommend suppliers
We're always finding new networks and businesses to supply the festival with good food. We have an extensive Recommended Suppliers list which lists fresh, wholefood ingredients and ethical products from cooperative suppliers, regenerative farms and local businesses.
4. Carbon map meals
We've partnered with Klimato, a carbon impact software which enables traders to deduce the impact of their meals. We've used this data to form an overall food footprint for the festival, and are using the nuances to work on reducing the per meal CO2 equivalent to be in line with the WWF's one planet plate directive, which suggests 0.5 kg CO2e per meal.
5. Repetition is key
Food traders receive so much information and processes from all their events. So repeating certain elements relevant to our festival is key. During webinars, guides, emails, contracts and conversations we assert the main elements to ensure compliance.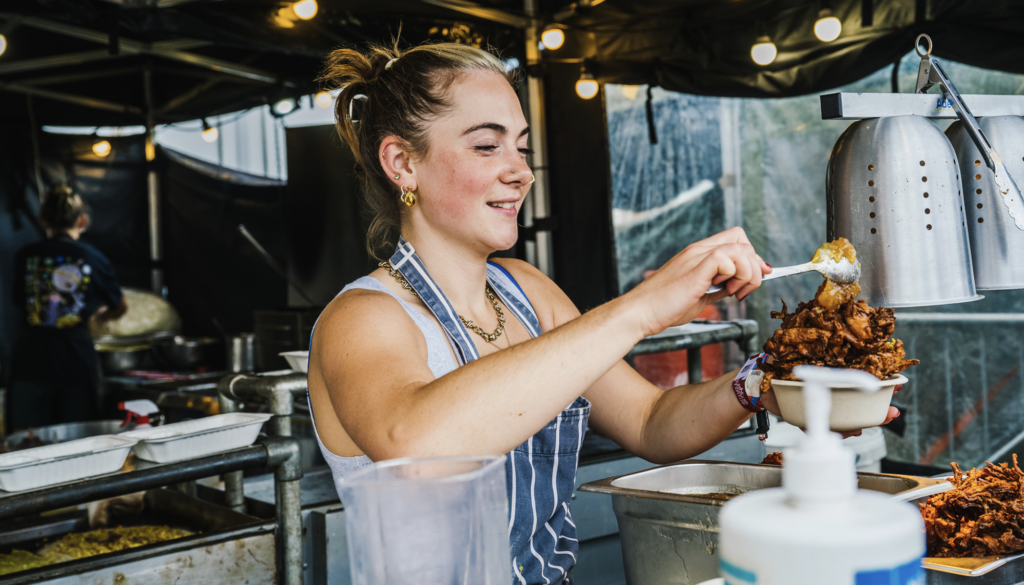 We're on a journey, and working closely and honestly with all our stakeholders means we are helping to nurture a forward-thinking network. Change within is change without – and we've seen ripples of ethical influence throughout our community from food traders and suppliers to the crew and the public. The elating social environment of festivals create a transformational potential, and we're motivated by the change we can make to individuals and their actions. 
For any support with your event, get in touch to hear more about our experiences.