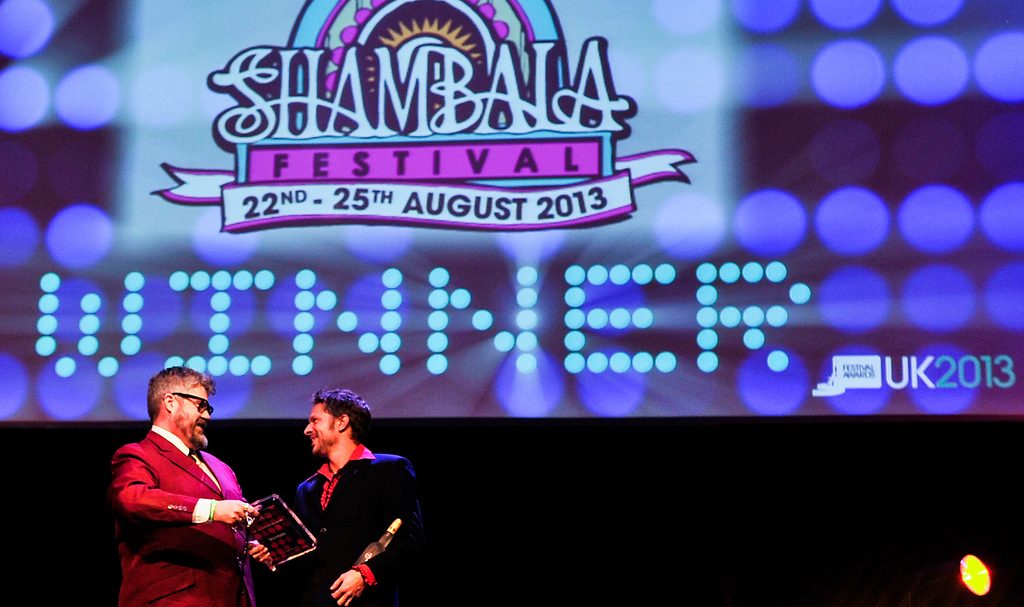 A Greener Festival Award 2013
We are very proud to have won this years international A Greener Festival Award for Shambala 2013, presented at the UK Festival Awards at the Roundhouse on December 2rd. Chris Johnson, representing the team on the night, was presented with the recycled tent flag for achieving "outstanding" along with another 10 international events (below) and the winners plaque at the evening ceremony.
Croissant Neuf Summer Party (UK)
The Falls Festival, Marion Bay (AUS)
Hebridean Celtic Festival (UK)
Island Vibe Festival (AUS)
Lightning in a Bottle (USA)
Oya Festival (NOR)
Shambala Festival (UK)
Splendour In The Grass (AUS)
Sunrise Festival – Another World, The Festival Micronation (UK)
Way Out West (SWE)
Welcome to the Future Festival (NL)
The Greener Festival Award is the internationally recognised independent scheme for environmentally aware festivals which is available for events throughout Europe, North America and Australia. In 2012 forty one festivals gained the prestigious mark, and this year forty three events successfully completed the scheme certifying their green credentials. Festivals who apply for the scheme must prove to the judges that the festival has meaningful and effective environmental policies and practices to deal with traffic and transport, greenhouse gas emissions, waste and recycling, water conservation, noise pollution, ethical policies and environmental protection. The festivals should also have sustainable office policies.