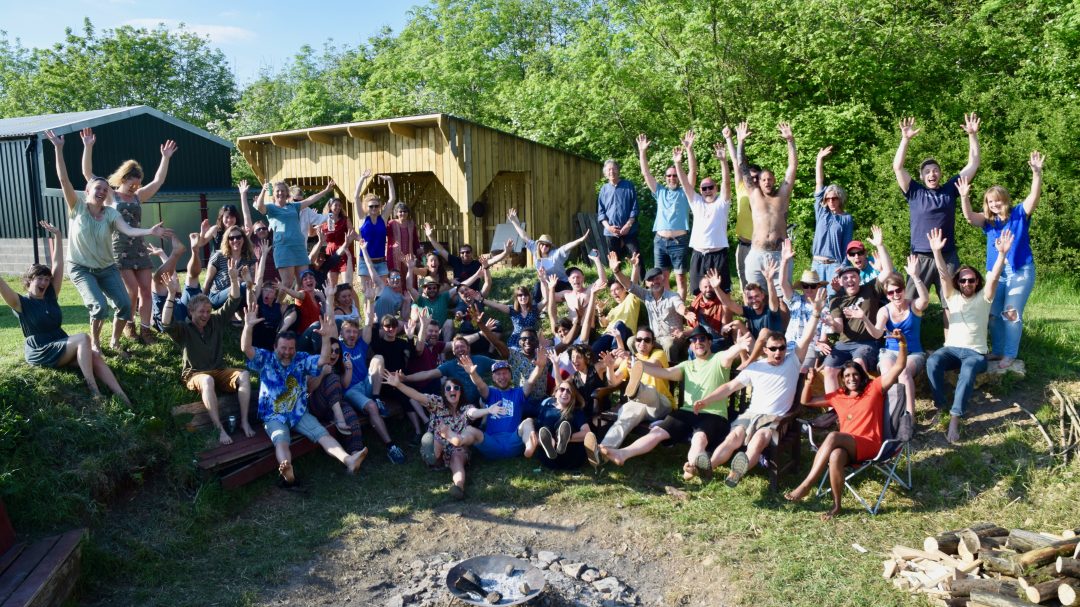 Shambala Team Take Aways – Inclusivity at Kambe
A longstanding tradition with the Shambala team is a weekend of camping under the stars. Surrounded by rolling hills, we get together to take stock of the Shambala journey so far, discuss ways to grow, create long-term visions, and generally enjoy each others company before the manic festival season begins in earnest!
While the weekend is focused predominantly on connecting with the wider Shambala team and dreaming up big plans for late August at Kelmarsh, it is always a valuable learning space for Kambe to reflect and progress its business practices.
Our flagship event, Shambala, is industry leading for sustainability: it's seven times carbon net positive, meat-and-fish-free and powered only by renewables. You can find out all about the Kambe's environmental policies that have enabled this here, and what the radical innovations have been implemented at Shambala here. The team weekend, as ever, held our sustainable ethos close. However, this year the weekend was structured predominantly around themes of Inclusivity and Diversity: how might we create events that enable a fairer and more sustainable future for everyone?  As part of an ongoing commitment to creating live events that make real contributions to a better world, we are always looking for ways to foster genuine community and be as welcoming as possible.
The weekend offered a chance for the Shambala Team and Kambe staff to learn more about how LGBTQIA+ experiences figure into the festival experience, and beyond. This was under the excellent guidance of Camille Barton – curator of Shambala's new venue SanQtuary. Camille is the founder of The Collective Liberation Project, which provides workshops focusng on teaching people about the intersecting oppressions experienced by minority groups, working towards a more nourishing and equitable future. The workshops provide people and organisations with a toolkit to understand actions that reproduce oppression, how to unlearn these reproductions, and avoid and combat against them.
Camille's workshop was an excellent opportunity for those that had not come into contact with specific terminology to learn more about the LGBTQIA+ community. This came as a welcome reminder that, in public facing and communication roles particularly, language matters; it can be a simple yet meaningful way to recognise and acknowledge the valuable variations and differences we encounter in creative events. Stonewall provide a comprehensive glossary here.
One big take-away from the weekend was incorporating preferred pronouns (she/he/they/zi etc) into personal introductions. This threw light onto the assumptions we can make in personal and professional environments when we meet new people, tending to automatically assign them man or woman. In an effort to be more trans-inclusive, and recognise queer gender identities, Kambe is rethinking ways we can bring this into the work place, in order to open up space for people (employees, clients, creative professionals) to self-identify their own gender experience. For example, Kambe are encouraging all employees to incorporate preferred pronouns into their email signatures, as a way to open up this conversation.
Other workshops based around ideas of inclusivity at Shambala came from Jo Barker and Holly Vandyke, the area managers of our new festival menstruation facility – the Red Sea Travel Agency. Besides learning about the wonderfully whacky, inclusive and informative roster of workshops and zones they have planned for the Red Sea Travel Agency, Jo and Holly introduced some points to mull over for those who menstruate and those that don't. Learning more about individuals' relationships to their cycles put into sharp relief the need to implement period-friendly policies in the work place. This is certainly something Kambe will be thinking about over the coming weeks. Furthermore, the workshop placed emphasis on not gendering menstruation as an exclusively cis-female experience, and we were able to reflect upon the renewed significance of our offices having gender neutral toilets.
A wonderful and inspiring weekend all round! Kambe is committed to continual learning and reassessment in how we practice our progressive values in the workplace, and in the events we create.