Welcome to the temporary home of our pop-up campsite for 2020. After the devastating forced cancellation of all our normal activities we are all yearning for the chance to roam, connect with nature and feel free! So… we've decided to create a campsite on our beautiful Shambala site for 3 separate weekends in August 2020: The 7-10th, the 14-17th and 21st – 24th.
Located in the beautiful Northamptonshire countryside, and having access to over 200 acres of grounds, lakes, stunning gardens and (enchanted!) woods, space it really not an issue! It's a chance to see the estate in it's gorgeous natural state, including areas normally off limits over the Shambala weekend.
We have a highly experienced team and strong supplier network to provide the safest experience possible, with a vision to provide as many complimentary campsite activities as possible…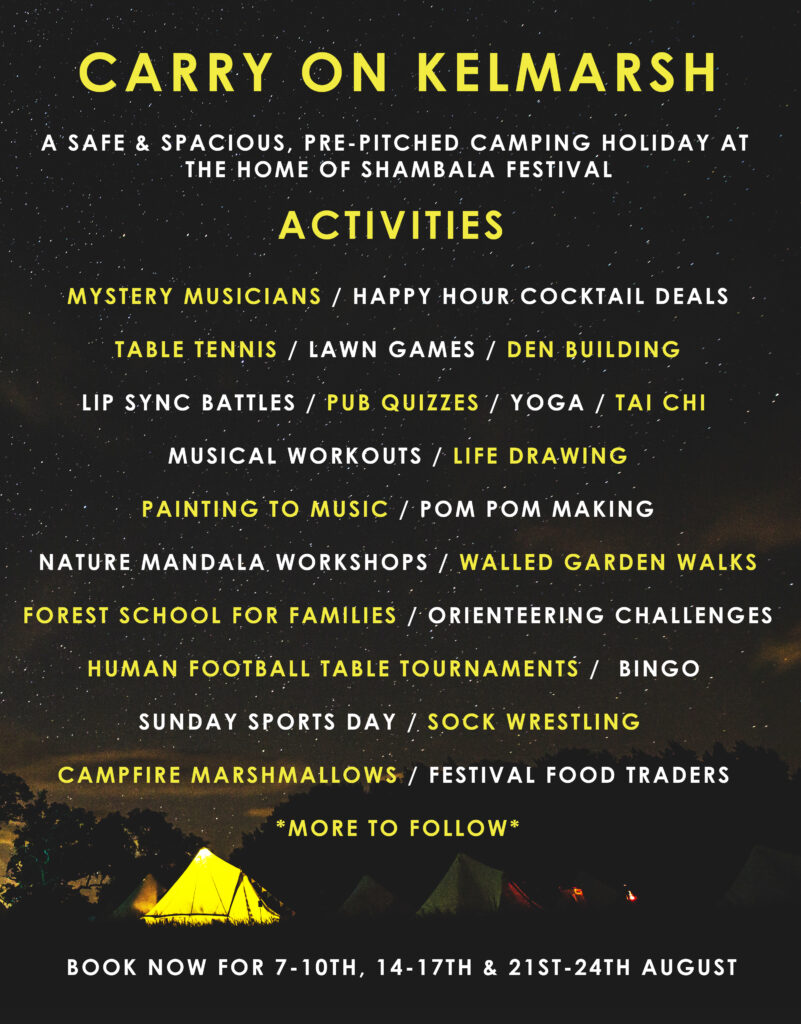 Click the image below to check out our brochure for more information and pricing – and see our FAQs and terms and conditions below for more information.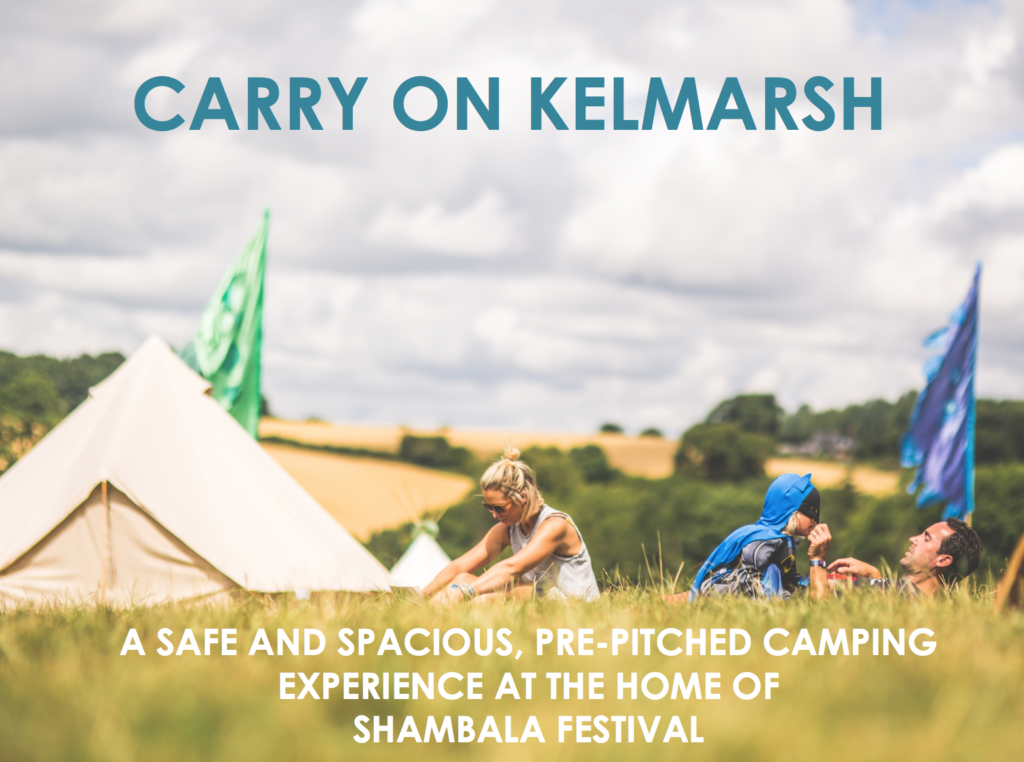 All cancellations relating to further Coronavirus restrictions, or enforced quarantine on the part of customers, are guaranteed a full refund.
What measures will be taken to ensure this is a safe event that meets COVID-19 guidelines?
In short, we're doing a lot! We will implement all relevant government regulations and advice, as well as going above and beyond, to ensure as much as is humanly possible we create a well managed Covid secure environment. Check out our T&Cs for more information on this, but we've pulled out some key points below:
Each pitch or camping group will have its own toilet specifically for their use – (please note this is a mandatory extra cost of £60 per pitch)
Showers will be open in 4hr blocks, sanitised after each user and deep cleaned for 1 hour every 4 hours.
All accommodation tents will have a four-night break between guests, during which time they will thoroughly deep cleaned, with bedding washed at high temperatures.
Hand sanitiser stations will be installed throughout the site, including shower blocks, food & drink traders, wash stations, access points, water points and points of sale.
A comprehensive risk assessment is in place and robust event
All food and drink providers will follow all government guidelines in the handling and serving of food and beverages. Card payments will be accepted at all points of sale.
All our service providers will be COVID-19 compliant and appropriate PPE will be worn by all event staff.
All areas will have ample space to allow all patrons to socially distance from other attendees.
To book your spot at one of the special Carry On Kelmarsh long weekends following the links below to TheTicketSellers.
FREQUENTLY ASKED QUESTIONS
Is this a family friendly and dog friendly campsite?
This is absolutely a family friendly space, please do bring your kids along. Sadly, much as we'd love to accommodate four legged friends on site, we are not able to do so as dogs are absolutely rubbish at social distancing. Registered Guide Dogs are very welcome though!
Can I reserve a pitch next to my friends' pitch?
We will do our best to accommodate this wherever possible, however if you want to be pitched by another group of friends, you must book the same accommodation type (eg Vintent, Yurt or Bell Tent) and the accommodation you book must be roughly the same size/berth as that of the group you wish to be camped next to. Once booked, you need to email us at info@kambe-events.co.uk to let us know which bookings would like to be sited together. We will then do our best to make this happen for you – though we can't guarantee it will be possible every time.
Can I bring my own campervan or camping set up, rather than booking pre-pitched?
This event is pre-pitched only, with bell tents, yurts and vintent canvas tents on offer. You are not allowed to bring along your campervan. You can however add a tent on to your pre-pitched accommodation booking, and bring an extra tent along to pop up by your pitch, should you need more space – see brochure for more info on costings.
Is this event open to groups of teens/young adults?
Under 18's cannot attend the event without an adult of 21 years or older as part of their group booking. The lead adult purchaser is the assumed responsible adult and guardian for any under 18's they purchase tickets for. Kambe Events Ltd will assumes loco parentis status of the lead adult purchaser on the booking. Please see our terms and conditions page for more information if this applies to your booking. All under 18s must be accompanied by their associated guardian/adult on arrival.
How much space will there be between camping pitches?
All pitches will be designated and well-spaced, at a minimum of 10 metres apart.
Can we park our vehicle next to our pitch?
No – however the vehicle park is positioned very close to the pre-pitched tents. Wheelbarrows will be available to use to transport items to your pitch, but in the interests of safety all vehicles will be parked away from pitches.
Can we play our own music?
Personal speakers may be brought to the event and used privately but must be used considerately, with respect to other campsite guests. Patrons must follow the campsite noise policy, and all patrons must cease using any personal speakers at the request of event staff.
What accessibility support is on offer?
Please email info@kambe-events.co.uk to discuss any accessibility support that may be required.
Are BBQs and campfires allowed?
Yes! Fires and BBQ's are permitted in pre-pitched campsites if they are off the ground and responsibly managed. Disposable BBQ's are not allowed. Fires, BBQs and cooking stoves are not permitted in any structures, car parks or other areas.
Will there be entertainment or activities on offer?
Activities are understandably restricted at the moment. Government guidance is been updated regularly and we are following the developments. Venues and events have restrictions on live performances, including drama, comedy and music, but we will consider all options, whilst always putting safety first.
There are 200 acres on the estate alone for you to use though, so feel free to bring your own playthings, bikes, instruments and games. Just remember to keep toys, instruments etc within your camping group and taking appropriate sanitising measures!
We are keeping abreast of all developments and are creating a timetable of optional activity extras for you to participate in. Additional charges may apply and further information will be released, but activity examples so far include:
Family fun! challenges & games… more tbc…
Saturday afternoon (1-5pm) access to the amazing walled gardens on the estate (no charge but donations for the gardens will be gratefully received)
Well-being activities such as distanced Yoga and Tai Chi
Fishing on the lake – personal rod license and equipment required – barbless hooks only (no extra charge but permits will be issued onsite)
Local walking routes – disused railway tunnels, reservoirs, forts, river and canal networks